4 slices italian bread
1 lg. tomato, diced
1/4 tsp. Kosher salt
3 tbsp. olive oil
3 whole garlic cloves
3 or 4 lg. leaves basil torn into pieces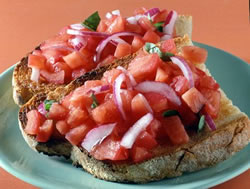 In a bowl toss tomato, salt, basil and 3 tablespoons olive oil. When bread is toasted, rub whole garlic on hot bread just for a mild taste. Spoon tomato mixture on top of toasted bread. Drizzle olive oil onto bread not to saturate. Place bread on cookie sheet. Set oven to broil and grill until golden brown. Do not turn bread over.
Back on top
---
1C Warm water
1/2 ts Sugar
1pk Active dry yeast
3C Sifted all-purpose flour, - divided
2tb Oil
1/2 ts Salt
12 oz Mozzarella Cheese, shredded or diced
6 oz Creamy goat cheese
3 oz Sliced Prosciutto or cooked ham, cut into strips
3tb Chopped chives
1 tb Finely minced fresh garlic
2 tb Grated Parmesan cheese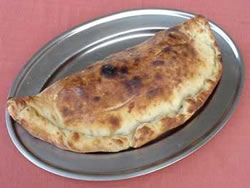 Combine water and sugar in large bowl; sprinkle with yeast. Let stand 5 minutes to soften. Add 1 1/2 cups flour; beat with electric mixer until smooth. Stir in oil and salt. Gradually blend in enough of remaining flour with wooden spoon to make moderately stiff dough. Turn out onto lightly floured surface; knead until smooth. Return to bowl; cover and let rise in warm place until doubled. Punch down dough; divide into 3 equal portions. Roll one portion on lightly floured surface to 9-inch circle. Place 1/3 of mozzarella on one side of dough; dot with 1/3 of goat cheese and top with 1/3 of prosciutto. Repeat with remaining dough , cheeses and prosciutto. Mix chives and garlic; sprinkle over filling. Moisten edges of dough with water and fold over to enclose filling, pressing edges firmly together. Place on lightly greased baking sheets. Let rise 30 to 45 minutes or until dough feels light to the touch. Cut slit in each calzone to allow steam to escape. Preheat oven to 375 deg F. Bake 30 to 35 minutes or until browned. Remove from oven; brush tops with oil. Sprinkle each with 2 teaspoons grated Parmesan cheese. Serve warm.
Back on top
---
green lemons (if you can't find unripe lemons, just use the yellow ones) - 2 or 3 large
pure grain alcohol - 1/2 liter
water - 1/2 liter
sugar - about 1 lb.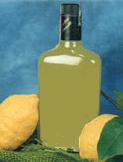 Step 1: Cut the rinds off of the lemons leaving the white part behind.  Put these with the alcohol into a glass container or bottle and allow the alcohol to infuse the lemon rinds for 3-4 days.  If you're using yellow (ripe) lemons, you can squeeze about a tablespoon of juice into the alcohol to ensure you get a strong flavor.
Step 2: After 3-4 days, separate the rinds from the alcohol (squeeze the rinds to extract any juice from them) and throw the rinds away.  Boil the 1/2 liter of water and then add sugar.  Stir until thoroughly dissolved.
Step 3: Allow the sugar/water mixture to cool then add to the lemon-infused alcohol.  Mix well then filter into suitable bottles. Step 4: Store limoncello in the freezer so that it forms a thick almost syrup liquid.  Pour into chilled shot glasses and drink.
Back on top
---
4 Individual Pizza Dough Balls - Defrosted
Cups Canned Plum Tomatoes
3/4 Cup Fresh Chopped Basil
2 Cup Olive Oil
Tablespoons Minced Garlic
1 1/2 Cups Grated Romano Cheese
1 1/2 Cups Shredded Mozzarella or Fontina Cheese
3 Tablespoons Fresh, Chopped Parsley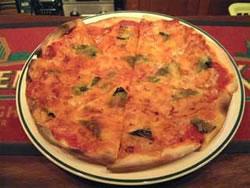 Follow Instructions for Grilled Pizza, removing the pizzas from the grill after grilling 30 seconds on the second side. In a bowl, mix tomatoes, basil, 1/4 cup oil and the garlic. In a separate bowl, mix the two cheeses. Spread some cheese mixture over each pizza, then dollop each with the tomato mixture. Do not spread. Sprinkle each with parsley, place back on the grill. Close the lid and cook just till cheese is melted, about another minute. Serve immediately, using remaining oil to drizzle over top, as desired.
Back on top
---
Neapolitan speciality of the Easter period
For the Short Pastry:
1 cup, 4 tbs. flour
5 oz. butter
1/2 cup confectioner's sugar
3 egg yolks

For the Filling:
1 cup whole-wheat grain
3 eggs, separated
1 1/2 qts. milk
3 oz. candied orange and lemon peel
1 pinch cinnamon
1 pinch vanilla
1 lemon rind
salt
2 cups ricotta
1 cup sugar
1 tbs. orange-flower water
1 oz. butter
1 oz. confectioner's sugar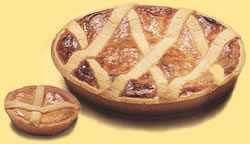 Knead the flour, butter, sugar and eggs together quickly. Make a ball of the dough and let rest in the refrigerator for at least one hour.

To prepar the filling: soak the grain for about a week, changing the water every day. Drain and boil with fresh water for 15 mins. Drain and put back in the pot with milk, lemon rind, cinnamon, vanilla, a pinch of salt, and 1 tbs. of sugar. Bring to a boil, lower and cook over low heat until the milk is absorbed. Remove and discard the lemon rind. Sift the ricotta into a mixing bowl. Add the sugar and beat until creamy. Add the 2 yolks, the whole-wheat grain, diced candied fruits, grated lemon peel, and the orange-flower water. Fold in the beaten egg whites.

Grease a 12-in. baking pan with butter and dust with sugar. Line with 3/4 of the pastry. Roll out the remaining dough and cut into strips. Arrange the strips over the filling in a lattice design. Brush the strips of dough with egg yolk. Heat the oven to 375ºF and bake the cake for 1 1/2 hours, until the filling has set and the crust is golden brown. Sprinkle with confectioner's sugar before serving.
Note:
Pastiera is best if eaten a day after it is cooked, and it keeps in the refrigerator for a week. In Italy, grain is sold pre-cooked and softened, sealed in plastic bags.
Back on top
---
Yield: 1 servings
3 Large eggs
1 tb Butter; softened
1 ts Sugar; plus 1/2 c Sugar
2 c All-purpose flour
1/2 ts Baking powder
1 c Honey
Vegetable oil; for deep-frying
Colored sprinkles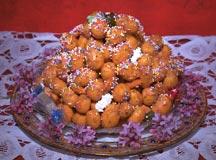 Whisk together: eggs, butter, 1 tsp sugar until foamy. Add baking powder; add flour. Work the mixture into a soft dough with your hands. Divide dough into 4 pieces. On a floured surface, roll each piece into a rope about the width of your index finger and 12" long. Cut the ropes into 1" pieces. Toss the pieces with enough flour to dust them lightly and shake off excess flour. Heat oil to 375°F in a deep fryer. Fry the struffoli a few handfuls at a time until they puff up and are golden brown. Using a slotted spoon, transfer to a paper towel to drain. Combine the honey and the 1/2 cups sugar in a large saucepan over low heat; stirring until the sugar has dissolved; keep warm over low heat. Add the fried balls, a few at a time, and turn them with a wooden spoon to coat on all sides. Transfer the balls to a large platter and mound them into a pyramid, shaping with wet hands. Sprinkle with the colored sprinkles and let stand for 1 to 2 hours. Then just break off some pieces with your hands to eat.
Back on top
---
1 1/2 cups honey
1 cup sugar
1 lemon, zest grated
3 1/3 cups flour
1/2 teaspoon ground cloves
1/2 teaspoon cinnamon
Preheat oven to 350 degrees F.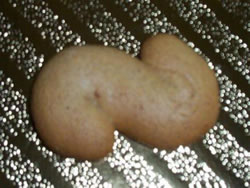 Heat honey, sugar and lemon zest in a small saucepan until 175 degrees F. Form a well out of the flour and mix in cloves and cinnamon. Pour the warm honey mixture into the well and bring dough together with a fork, just like making pasta. Knead dough with hands 2 minutes until smooth and elastic, 2 to 3 minutes.

Cut the dough into 1 1/2-inch balls and roll each ball into 4-inch long dowels. Form each dowel into an "S" shape and place onto a greased cookie sheet. Place in oven and bake 20 to 22 minutes until light golden brown, then remove and cool on cookie rack.
Back on top
---
7 cups of flour
3 eggs
1 big package of yeast
1 orange peel
2 teaspoons salt
3-4 cups of warm water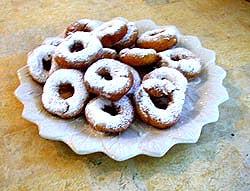 Grate orange peel. Beat the 3 eggs. Add yeast to 1 cup of warm water and mix in the 3 beaten eggs, orange peel, and 2 teaspoons of salt. Take this and add it to the 7 cups of flour and mix with your hands. As you are mixing continue to add the remaining cups of warm water. The dough should be soft and sticky. Once you have finished, take the dough and wrap it in a blanket and place it on a big pan to rise. Once the dough has risen take a fork and let the air out. Recover and let it rise again. During this time fill a pan with oil and heat it. It's hot enough when the dough drops to the bottom and comes right back to the surface. Take dough and shape as you like. Once the dough has browned you want to take it out and place it on a brown paper bag. Sprinkle with sugar or powder.
Back on top