THE ISLAND OF CAPRI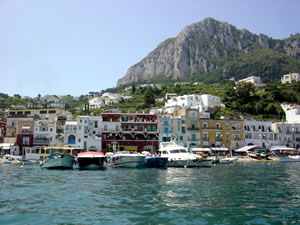 Capri remains an enchanting island haven in the Bay of Naples. Its breathtaking caves, luxuriant vegetation and the charming narrow laneways of its small towns have attracted visitors for centuries. The best time to visit is spring (April to early July), or mid-autumn (October) after the summer crowds have ebbed away.
Already inhabited in the Old Stone Age, Capri was eventually occupied by the Greeks. In 29 b.C. the emperor Cesar Augustus visited Capri and he was struck by its beauty and bought it from the city of Neapolis (the ancient Naples) in exchange for the nearby isle of Ischia, which was larger and more fertile. Augustus is believed to have founded the world's first palaeontological museum, in the Villa Augustus, to house fossils and the Stone Age artefacts unearthed by his workers.
His successor, Tiberius, lived on the island from 27 to 37 A.D. and he had twelve villas built : every villa was dedicated to a god of Olympus. He ruled his huge Roman empire from Villa Jovis, whose ruins are still on the Tiberius Mountain.
Geologically the island of Capri is the continuation of the Sorrento Peninsula, which is 5 km (3 miles) away. The origin of the name Capri comes from "kapros" which means a boar, because of these animals so frequent on the isle. Nature, history, celebrities and culture have made Capri one of the greatest tourist attractions in the world.
The "Faraglioni Rocks", (which are the symbol of the island), the main square "Piazza Umberto I" , (which has been called "the stage of the world" because a lot of famous personalities have been there), the "Gardens of Augustus" (with their colourful flowers and nice sea-view), the "Blue Grotto", famous all over the world, make this island unique.
GROTTA AZZURRA
Capri's craggy coast is studded with more than a dozen grottoes, most accessible and spectacular, but none as stunning as this, the "Blue Grotto". Two Germans, writer Augustus Kopisch and painter Ernst Fries, are credited with discovering the grotto in 1826, but they merely rediscovered and renamed the "Grotta Gradola", as locals had known it. Remains of Roman work inside, including a carved ledge towards the rear of the cave, were found later. It is believed the cave sank to its present height, about 15 to 20 metres below sea level, blocking every opening except the 1.3-metre-high entrance. This causes the refraction of sunlight off the sides of the cavity, creating the magical blue colour and a reflection of light off the white sandy bottom, giving anything below the surface a silvery glow. The grotto is closed if the sea is too choppy, so before making Your way there, check with the tourist office that it is open.
---