The Theatre of Pompeii.
The theatre could hold 5000 spectators. Built in the Samnite period during the second century B.C., it underwent several reconstructions. The seats of the ordinary spectators were located inside the cávea, the wider seats at the bottom with comfortable chairs were for important personalities, while the two lateral boxes over the entrances of the "orchestra" were reserved to very important people.
---

Atrium of the House of the Faun.
"The House of the Faun" covers an entire city block. Its size and elegance are extraneous to the mediocre surroundings of Campania, but it is rather comparable to the princely residence of Pellas in Macedonia. It takes its name from the discovery of a small bronze statue (a dancing Faun) found in the atrium.
---

House of the Large Fountain.
This niche-shaped fountain is completely covered with refined mosaics, composed of glass paste. In the "House of the Large Fountain" there are some copies of bronze statues representing a putto with a dolphin and a fisherman.
---

The Thermopolium.
It was an ancient tavern. The presence of numerous shops, taverns, and inns, let us suppose there was a production not only for the requirement of the city, but also destined for the exportation.
---

The Arch of Caligola.
It is so called because of the discovery of an equestrian statue credited to this emperor. The Arch of Caligola is located near the Forum (the main square of the town) along Via di Mercurio street. The Roman emperor Caligola lived from 12 to 41 AD: we don't know so much about him because the texts by Tacitus about him were lost in ancient times.
---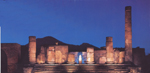 Ruins of Pompeii by night
A moonlight walk among the history of two thousand years ago. The excavations of Pompeii are also open after sunset, thanks to a fixed lighting system which allows a unique, fascinating visit of one of the most beautiful archaelogical sites in the world. The area open to the public in the evening extends from the Porta Marina entrance over all of the Forum. It will be possible to walk, admire and linger in the houses and temples open to the public.
---