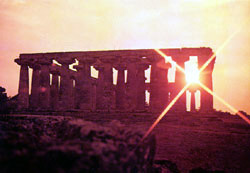 The so-called Basilica in Paestum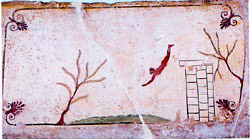 The Diver's Tomb of Paestum Museum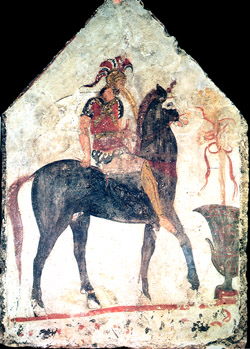 Image of Lucanian Knight in a tomb in Paestum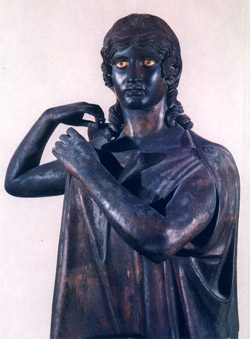 Bronze statue of a dancer from Herculaneum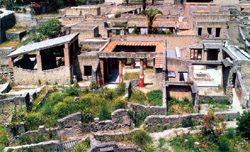 View of Herculaneum ruins
GUIDED TOUR IN HERCULANEUM AND PAESTUM (TEMPLES AND MUSEUM):
DURATION:

7/8 hours

PRICE:

Euros 250

AVAILABILITY:

All-year-round




INCLUDES:

A private tour on foot with a professional guide (only for You) of Herculaneum ruins, the archaeological area and the Museum of Paestum.

ENTRANCE FEES OF HERCULANEUM AND OF PAESTUM ARE NOT INCLUDED.

HERCULANEUM ADMISSION:

Single ticket (valid for 1 day)
Full price € 11,00
Half price € 5,50

access to 5 sites: Herculaneum, Pompeii, Oplontis, Stabiae, Boscoreale) - valid for 3 days
Full price: Euros 20.00
Half price : Euros 10.00 (*)

Free of charge: for EU citizens under 18 or over 65 years old.

(*) Reductions: for EU citizens aged 18-24 and EU permanent school teachers.
Reductions and free tickets can be issued only by showing a valid document (passport, identity card, driving license).

ENTRANCE FEES OF PAESTUM:

Adults 4,00 euro
EU Citizens: under 18 free
18 > 25 -50%
over 65 free

The combined ticket of the archaeological area + the Museum costs Euros 6,50 per person.

The National Museum of Paestum is closed on the 1st and 3rd Monday of each month.


Itinerary Details are listed below:
TOUR SCHEDULE OF HERCULANEUM AND PAESTUM - TEMPLES AND MUSEUM
Meet with Your personal English-speaking guide by Your hotel or cruiseship
Transfer to Herculaneum and 2 h tour with the guide
Transfer to Paestum and free time for a snack
The guided visit in the archaeological ruins lasts roughly 60 minutes
30/40 minutes will be spent with Your guide in the nearby Museum
Back to the hotel or cruiseship
This trip is a nice combination of Roman ruins (Herculaneum) and a Greek archaeological site (Paestum).

Herculaneum was a Roman town of roughly 6/7000 inhabitants which was totally buried by an enormous quantity of mud of Vesuvius during the eruption of 79 a.C.
After 1600 years it was rediscovered by accident: In the year 1711 Prince d'Elbeuf constructed a casino at Portici, and by sinking a well in that dwelling , at the depth of ninety feet, he discovered the seats of the ancient theatre, and during the five years in which the prince continued his excavations he brought to light a vast number of statues and mosaics.

After the visit of Herculaneum (2 hours) and the transfer to Paestum, you can have free time there (in front of the Greek temples) for a snack: it is a possible to buy there a great buffalo mozzarella cheese. That area was marshy centuries ago, and still is the breeding of buffaloes there.
After that the guided tour of Peatum can start.


Paestum was founded by Greeks around 600 b.C. At the beginning it was called Poseidonia, since it was dedicated to Poseidon (the Roman Neptune), the god of the sea. In 400 B.C. it was occupied by the Lucans, an Italic populaton. The Lucans ruled it till 273 B.C., when it became a Roman colony and was called Paestum.
The fall of the Roman Empire meant also the decline of Paestum. As matter of fact, around 500 B.C., since the mouths of the rivers running in the plain were silted up, the whole area became quite unhealthy. Malaria had already spread all over the place and even the built-up area became marshy. Consequently the population gradually left the town. In conclusion, such a disaster was caused by the deforestation of the nearby hills.
Actually, these magnificent ruins were preserved by marshes and woods, which prevented them from being destroyed and ransacked for many centuries.
Paestum was rediscovered just by chance in 1752, when they were building the modern road cutting the ancient town into two parts.

Of particular interest are the Greek temples of Paestum, and above all the Temple of Neptune.


THIS PRIVATE TOUR IS NOT AVAILABLE ON THE FIRST AND THIRD MONDAY OF EVERY MONTH, CLOSING DAY OF THE NATIONAL ARCHAEOLOGICAL MUSEUM IN PAESTUM.
SUGGESTIONS:
Take water, wear comfortable shoes, take camera & sun cream. In low season warmer clothing may be required.
THIS TOUR WILL OPERATE RAIN OR SHINE, SO BE PREPARED FOR ALL WEATHER CONDITIONS.
THE TOTAL PRICE OF THIS PRIVATE TOUR IS OF EUROS 250.