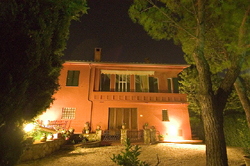 Casa Bonfigli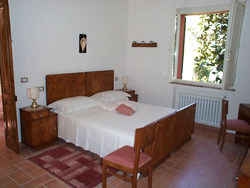 Double bedroom of Casa Bonfigli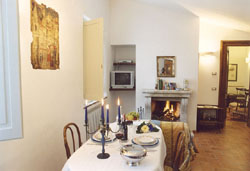 Living room of Casa Bonfigli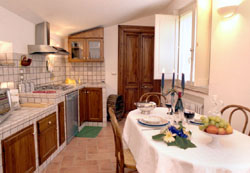 Kitchen of Casa Bonfigli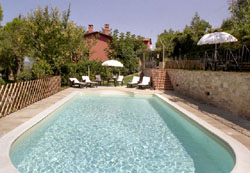 Swiiming Pool of Casa Bonfigli
Beds:
2+1
LOCATION:

Bonfigli apartment is located in a farmhouse dating back to the XV century, built on Colle Giorgio, a hill just outside Perugia (Umbria). Located in open countryside, but a mere stone's throw from the historic centre of the city, it was converted into a family villa in modern times. During the years 2001-2002, the building has been refurbished and remodelled once again into three sumptuous apartments.

DESCRIPTION:

Please, note that in the apartments' bedrooms is forbidden to smoke.

Flat Bonfigli: 2+1 sleeps, two-roomed apartment, 50 sq.m. composed of: living-room kitchenette, single bed-sofa and fireplace, Junior suite with couple bed splittable on occurrence, pre-bathroom, bathroom with angula Jacuzzi bathtub, equipped terrace with chairs and table.
TO SHARE AND AVAILABLE FOR OUR GUESTS:
A new and charming swimming pool with salt water and with a hot shower
A cloth dryer
Internet room with free internet with a dsl fast connection
Parking place inside the property
Garden
Barbecue
Parking place inside the property and betwenn the olive trees
The wonderful view of the Umbria Mountainsand hills
For our Guests convenience in EACH charming and luxury apartment there are:
Food and beverage in the kitchen for an hearty Italian breakfast for the first mornings of the stay
Jacuzzi (in del BONFIGLI Apartment is angular and for 2 people)
fire place
Private Panoramic Terrace (in Del PINTURICCHIO apartment)

Dishwasher
Washing-machine
Microwave oven
satellite Tv
dvd/cd player
Toaster
Fully equipped kitchen and with 4 fires
refrigerator
freezer
Ironing equipment
a little library
Electronic wall-safe
american coffee maker
italian coffee maker
fans
hiredryer
mosquito-net in evey windows
Indipendent doorway
Private outdoor green space with table sunbeds and chairs

HOW TO REACH US

BY CAR:

from Rome: by car, Orte exit, towards Cesena on the E45 highway. from Florence: by car, Valdichiana exit, towards Perugia on the Perugia-Bettolle highway. from Milan and Bologna: by car, Cesena exit, toward Rome on the E45 highway. A14 "Adriatica" motorway: from the north, exit at Rimini (follow signs for Citta' di Castello) - Fano (follow signs for Gubbio); from the south: exit at Ancona nord (and follow signs for Gubbio) FROM PERUGIA TOWN TO VILLA NUBA: When you arrive in Perugia, follow the signals for Monteluce (ospedale policlinico). From there take Via Eugubina and go street on.After two petrol pumps (the last one is Tamoil) you will find on your right the number 105: turn on the left and take the private road that you find on your left side. After only 100 metres you will see Charming apartments Villa Nuba Colle Giorgio II (Strada Eugubina,70 Loc.Colle Giorgio II,Perugia)

BY AIR: Leonardo da Vinci international airport Fiumicino-Rome tel: (+39)0665951-fax (+39)0665953646 flight information: tel (+39)0665953640/(+39)0665955238 daily connections with Perugia by bus acap-Sulga line tel (+39)0755009641-fax (+39)0755053733 www.sulga.it

Amerigo Vespucci airport Peretola-Florence tel (+39)055373498- (+39)0553061702

Umbria Sant'Egidio regional airport tel(+39)0755921432/3 -(+39)075592141- fax(+39)0756929562 www.airport.umbria.it info@airport.umbria.it

Guglielmo Marconi airport Bologna tel (+39)0516479615

Raffaello Sanzio airport Falconara-Ancona tel (+39)07128271 -fax (+39)071207096

Galileo Galilei airport Pisa tel (+39)050500707 -fax (+39)050500707

Miramare airport Rimini Aeradria tel (+39)0541715711-fax (+39)541373649

BY TRAIN: train connections offer a variety of daily possibilities: Trenitalia FS information: (+39)848-888088 www.trenitalia.it